Linux NAS | Enterprise - Rack-Montage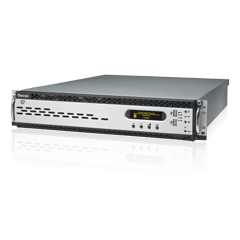 N12000V
Ein perfektes Enterprise Storage Center
Merkmale
High Availability (HA)
zum ersten Mal ist der Zugriff auf Ihre Daten vollkommen frei von Verzögerungen. Mit HA werden Ihre Daten situationsunabhängig auf zwei getrennten, identischen NAS aktiv hinterlegt. Muss ein NAS gewartet werden, übernimmt das zweite NAS die Funktion des ersten NAS.

10 GbE-bereit
Hochleistungsrechenzentren benötigen oft einen Grad an Geschwindigkeit, den eine durchschnittliche Internetverbindung von heute nicht bieten kann. Dieses NAS von Thecus ist für 10-Gb-Ethernet vorbereitet, sodass es die anspruchsvollsten Anforderungen von heute und morgen erfüllt.

USB 3.0-kompatibel
Die nächste Schnittstellengeneration ist da – und gleich 10 mal schneller als USB 2.0. Ob Sie Digitalkameras und Smartphones anschließen, große externe Festplatten sichern oder die Kapazität Ihres NAS ergänzen, dank USB 3.0 mit 5 GBit/Sek. ist alles im Handumdrehen erledigt. Durch die Abwärtskompatibilität mit USB 2.0 und USB 1.1 können alle Geräte mit solchen Anschlüssen weiterverwendet werden – die ideale Kombination von Geschwindigkeit und universeller Verwendbarkeit.

Acronis True Image
Mit der modernen Sicherungssoftware von Acronis bringt Thecus das Beste vom Besten aufs Tablett. Sichern Sie all Ihre Daten mit einem Mausklick oder wählen Sie nur die wichtigsten Dateien aus. Acronis wartet mit einer eleganten, benutzerfreundlichen Bedienoberfläche und umfangreichen Funktionen zum Schutz Ihrer Daten auf.

Dual DOM
Ein Disk On Module (DOM) enthält die gesamte kritische Systemsoftware. Wenn diese Komponente aus irgendeinem Grund ausfällt, ist Ihre System-Firmware nicht mehr abrufbar - oder schlimmer. Bei Thecus®' einzigartigem Dual-DOM-Design (Betriebssystemredundanz) programmiert ein zweites DOM automatisch das erste DOM bei einem Ausfall neu. Das bedeutet, dass Ihre Daten stets sicher und abrufbar sind.

Mehrere RAID-Modi
Wenn es um die Datenverwaltung geht, haben Sie mit NAS von Thecus wirklich freie Hand. Erstellen Sie verschiedene RAID-Laufwerke, die jeweils verschiedene RAID-Modi unterstützen, einschließlich RAID 0, 1, 5, 6, 10, 50, 60 und JBOD. Je nach Stellenwert von Leistung oder Datenschutz. Sollte ein Festplattenfehler auftreten, stellt der Austausch eines Datenträgers dank Online-RAID-Migration und -Erweiterung, Hot-Spare und automatischer Wiederherstellung kein Problem dar.

Mehrere Dateisysteme
Die Unterstützung mehrerer Dateisysteme, darunter EXT3, EXT4, und XFS, ermöglicht NAS von Thecus flexible Kompatibilität mit vielen verschiedenen Arten von Umgebungen. Benutzer können gleichzeitig verschiedene Dateisysteme über mehrere RAID-Laufwerke verwenden, um die Vorteile von allen zu nützen.



iSCSI Thin-Provisioning
Optimieren Sie mit der extrem schnellen Geschwindigkeit von iSCSI und der Effizienz von iSCSI Thin Provisioning die Nutzung Ihres Speicherplatzes. Verbinden Sie sich über iSCSI und profitieren Sie von den schnellsten Datenübertragungsraten. Eine Verschwendung von Speicherplatz ist mit der flexiblen Speicherfunktion von Thin Provisioning endgültig passé.

Kompatibel mit iOS/Android
In unserer modernen Welt ist nichts so wichtig wie der ortsunabhängige Zugriff auf Ihre Daten. Mit ThecusShare und dem Thecus Dashboard können Sie unterwegs mit einem iOS- oder Android-Gerät Ihr NAS verwalten und Dateien herunterladen oder streamen.

Rsync
Die Sicherung Ihrer Daten ist sehr wichtig; und jeder hat spezifische Anforderungen, wenn es um seinen Speicher geht. Thecus' Rsync-Funktionalität bietet Ihnen mit der Möglichkeit zur Fernsicherung, einem vielseitigen Zeitplaner und der Stabilität Linux-basierter Datenübertragung großartige Flexibilität.

Benutzerquoten
Teilen Sie die gewaltige Speicherkapazität eines NAS von Thecus auf mehrere Benutzer auf. Ob zwei oder hundert Benutzer, mit Benutzerquoten ist es einfach, den Speicherplatz aufzuteilen und zu verwalten.



PCI-e-Steckplatz
NAS-Produkte von Thecus sind für eine Reihe neuer Technologien vorbereitet. Dank des eingebauten PCI-e-Steckplatzes können gewerbliche Anwender einen 10G-Ethernet-Adapter für blitzschnelle Übertragungsgeschwindigkeiten oder eine USB 3.0-Adapterkarte als Schnittstelle der nächsten Generation hinzufügen.
Übersicht
Thecus stellt eine neue NAS-Reihe für einen rasch wachsenden Teil des Marktes vor: hochwertige Speicher mit hoher Kapazität. Die Value- oder "V"-Reihe ergänzt Thecus' bestehendes NAS-Sortiment, indem Benutzer die Wahl zwischen mehr Wert und mehr Leistung erhalten. Diese neuen NAS stellen eine Kombination der neuesten Generation leistungsstarker Intel®-Prozessoren und Thecus' umfangreicher Software dar, um eine Lösung zu bieten, die ein breites Spektrum des gewerblichen und persönlichen Speicher- und Rechenbedarfs abdeckt, ohne das Budget zu sprengen.
Zwei NAS mit allen Hardware-Innovationen von Thecus
Die NAS N12000V und N16000V strotzen vor nützlichen Hardware-Innovationen, die gewährleisten, dass Ihr NAS eine solide Investition ist. Das System baut auf einen sehr neuen, hochwertigen Intel® Xeon® Prozessor E3-1225 Quad Core mit 3,10 GHz.
NAS sind langfristige Produkte. Deshalb hat Thecus etliche attraktive Hardware-Feinheiten hinzugefügt. Dank ihrer PCI-e-Steckplätze profitieren das N12000V und das N16000V von Folgendem:
- SAS-Controller zur Unterstützung aktueller und künftiger, moderner Datenträger mit bis zu 15.000 U/Min.
- USB 3.0-Ports: Schluss mit langsamen Datentransfers. Einsatz schneller, externer Festplatten mit bis zu zehnmal höheren Geschwindigkeiten als bei USB 2.0!
- 10GBASE-T-Ethernet-Adapter (optional) für den Anschluss an 10GbE-Netzwerke mit einem gewöhnlichen Ethernet-Kabel (CAT6 mit RJ45-Stecker): keine kostspieligen und empfindlichen Glasfaserkabel.
Die restlichen Steckplätze bieten Raum für Erweiterungen und Optimierungen mit künftigen technischen Weiterentwicklungen der Netzwerkbranche.
Zu guter Letzt verfügen beide Modelle über einen HDMI-Ausgang. Was man heute mit einem NAS tun kann, geht weit über schlichte Überwachung hinaus, kennt praktisch keine Grenzen und erfordert keinen Computer mehr!
Großzügiger Software-Umfang für unerreichte Verfügbarkeit
Das N12000V und das N16000V werden mit derselben 64-Bit-Software wie ihre gewöhnlichen Versionen geliefert und beinhalten die mittlerweile berühmte Thecus-HA (High Availability): umgehendes Klonen des NAS und Dienstwiederherstellung im Fall eines Hardware-Defekts. Mehr über Thecus-HA erfahren Sie hier.
Die integrierte Firmware beinhaltet alles, was nützlich für Ihr Unternehmen ist und die Kapitalrendite optimiert. Der Kauf eines intelligenten zentralen Geräts wie eines NAS von Thecus reduziert die Wartungskosten, verringert die Erstanschaffungskosten und sorgt für bleibende Flexibilität: iSCSI-Funktionalität für dynamische Speicherplatzzuteilung, Citrix- und VMware-Zertifizierung für virtualisierte Umgebungen, alle verbreiteten und weniger verbreiteten RAID-Stufen für Datenredundanz, Kompatibilität mit allen Netzwerkprotokollen, damit Ihr NAS mit jedem kommunizieren kann, Fernzugriff über das Internet und so weiter. Dank des Modulsystems von Thecus können Funktionen im laufenden Betrieb hinzugefügt werden.
Außerdem wird jedes unserer N12000V und N16000V mit Sicherungssoftware von Acronis geliefert, um Benutzern eine durchdachte, professionelle Software-Sicherungslösung zu bieten, die Speicher- und Sicherungsaufgaben vereinfacht.
"Obwohl die IT-Budget immer knapper werden, war in professionellen Umgebungen der Bedarf an qualitativ hochwertigen NAS mit hoher Kapazität paradoxerweise noch nie so hoch. Die V-Serie kombiniert Thecus' Qualitätsstandards, Innovationen und hochwertige Hardware, um Kunden alternative Lösungen zu bieten und dabei zu helfen, ihre entscheidenden Ressourcen zu verwalten, ohne ihr Budget zu überziehen", sagt Florence Shih, Geschäftsführerin von Thecus Technology Corp.
Techn. Daten
1.Hardware Platform
Item
Spec
Processor
Intel® Xeon® E3-1225 3.1GHz Processor + Intel C206 chipset
System Memory
4GB DDR3 SDRAM
LAN Interface (PCI-e)
RJ-45x3: Intel 82574L 10/100/1000 BASE-TX Auto MDI/MDI-X
WOL supported
USB Interface
USB 2.0 host port x6 (front x2, back x4) (Type A)
USB 3.0 host port x2 (back x2)
LED Indicator
Power: (blue)
System Busy: (yellow)
System Alert: Redundant power or system fan failure (red)
HDD 1-12 Activity/Fail (green/red)
OLED
Displays system status and information (Multilingual)
SAS/SATA controller (HBA), PCI-e (8-lane)
LSI 2008 HBA card supports 6G SAS/SATA (x8)
Disk Interface
12 x SATA/SAS for internal
1 x eSATA for external
Power Supply
Redundant power supply 500W or more
PCI-e Slots
8-lane (x3), One is used by SAS HBA
4-lane (x1)
1-lane (x1) used by CU30N (USB 3.0)
Thermal/Fan Control
Thermal sensor on processor temperature
CPU fan control
System Fan
Hot swappable (x4)
Buttons
Power button (Front, shutdown controlled by user interface)
LCM button (ENT, ESC, UP, DOWN)
System reset button
Locator button
RS232
1 (For UPS)
Environment
Temperature: 5°C to 40°C
Humidity: 0 ~ 80 % R.H. (Non-condensing)
Chassis
2U Rack mount
Dimensions (HxWxD)
89 x 440 x 662 (mm)

2. Software Functions
RAID
RAID Modes
RAID 0, 1, 5, 6, 10, 50, 60 and JBOD
Auto-rebuild
Supported
Hot-swap
Supported
Dedicated Hot Spare
Supported
Global Hot Spare
Supported
Online RAID Migration
Supported
Online RAID Expansion
Supported
RAID Volume Encryption
AES256bit
Disk
Power Management
Available spin-down while idle setting
Bad Block Scanning
Supported
SMART Info
Supported
SMART Test
Supported
Disk Roaming
Supports volume-based roaming to other N12000V
Network
Configuration
Fixed IP address, dynamic IP address
IP Sharing Mode
Can be enabled/disabled
Transport Protocols
TCP/IP/AppleTalk
File Protocols
SMB/CIFS, HTTP/HTTPS, FTP, NFS v4, AFP
Link Aggregation
Load balance, Failover, 802.3ad, Balance-XOR, Balance-TLB, Balance-ALB
Data Access
Client OS Support
Windows XP and after
Windows Server 2003 and after
UNIX/Linux
Mac OS X
FTP
Built-in FTP server with bandwidth control
Secure FTP
Built-in secure FTP server with bandwidth control
Download Manager
BT Download (Transmission module)
NZB download (NZB module)
Printer Server (IPP)
Supports USB printers
Supports a wide range of IPP printers
Client can manage print tasks (list/delete) via web user interface
Data Backup
Client Incremental Data Backup
Acronis True image (OEM version)
Client System Disaster Recovery
Acronis True image (OEM version)
Single Volume Remote Replication
Incremental or synchronized (via Rsync module)
USB device copy to NAS
Controlled through LCM
Bi-directional USB Copy
Supported (via USB Copy module)
Mac OS X Time Machine
Supported
Block Level Access
iSCSI Target/Initiator
Supports Microsoft/Mac OS X/Linux initiators and Thecus NAS targets
iSCSI Thin Provisioning
Supported
MPIO
Supported
MCS
Supported
Clustering
Supported
SCSI3 persistent group reservation
Supported
Power Management
Scheduled Power On/Off
Supported
Volume Management
Multiple RAID
Supported
Multiple File System Selectable
EXT3/EXT4/XFS
Multimedia Support
iTunes Server
Supports AAC, MP3 w/ ID3 tag and WAV
Piczza!™ Web Server (via module)
Supports GIF, JPG (JPEG), BMP, PNG
Support EXIF display
Support slide show
Media Server
Support uPnP AV streaming protocol
User Authentication
Local User
Supports built-in user accounts
Local Group
Supports built-in user groups
Windows ADS
Supported
File System
Type
Journaling File System
Language Support
Unicode Support
Authorization (ACL)
"Read", "write", or "deny" privileges to individual users or groups in folders and sub-folders
User Quota
Supported
Administration
User Interface
Web-based user interface supports English, Traditional Chinese, Simplified Chinese, Japanese, Korean, French, German, Italian, Spanish, Russian, Polish and Portuguese
Utility Program
MS Windows Setup Wizard
Supports Windows 2000/XP/2003/Vista/7
Mac OS X Setup Wizard
Email Notifications
Sends system messages via email to the system administrator
SNMP Trap
System information trap out
Mobile Applications (iOS/Android)
Thecus Dashboard
Mobile monitoring and administration (via module)
ThecusShare™
Uploading, downloading, and streaming multimedia
Others
Dual DOM
Supported
Recycle Bin
Supported
Web Disk
Supported
Web Server
Supported (via module)
ISO Mount
Supported
User Module
Supported
IP Cam Surveillance
Supports up to 10 IP cameras (via module)
HA (High Availability)
Supported
Inhalt des Lieferkartons
Accessory Bag(with key)
Ethernet Cable
Power Cord
Acronis True Image DVD
Universal CD
QIG
Warranty Card
HDD Compatibility List Card
Sliding Shelves
How To Guides
Thecus TV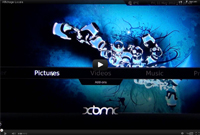 Local Display
Step by step process to install Thecus NAS to TV through HDMI output and use local display. How to access NAS admin UI page and XBMC to display music, movies and pictures.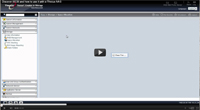 Discover iSCSI and how to use it with a Thecus NAS
This tutorial is separated in three parts. The first part will teach you what's iSCSI and how it can be used. The second and third part would be practical demonstration on iSCSI Target/Initiator. Only the second part requires a Thecus NAS!