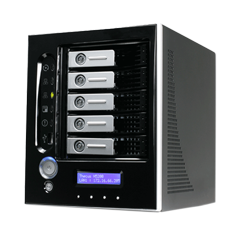 N5200
High Performance NAS Server with Intel® Celeron® M Processor
Rezensionen
Merkmale
Five-bay hot swappable network attached storage.
Enhanced system performance with Ultra-Low voltage Intel® Celeron® M
Processor for storage computing with 30% energy saving.
RAID 0, 1, 5, 6, 10 and JBOD support.
RAID Migration, RAID Expansion.
Multi-lingual support.
Built-in 4 port Gigabit switch with IP sharing (N5200 RouStorTM).
802.3ad based load balancing and failover (N5200).


Übersicht
Das N5200 ist eines der schnellsten NAS seiner Klasse und eignet sich daher auch für größere Arbeitsgruppen und anspruchsvolle Anwendungen mit hohem Datenaufkommen. Dank Intel Celeron Mobile Prozessor und optionaler automatischer Festplattenabschaltung bei Inaktivität, ist der Energieverbrauch gering. Kompromisslose Performance, Flexibilität, zahlreiche Erweiterungsoptionen und die riesige Speicherkapazität werden Sie überzeugen.
Ihre Daten speichert das Thecus N5200 auf bis zu fünf SATA-II Festplatten. Permanente Sicherheit garantiert die RAID-Unterstützung. Sollte eine Festplatte ausfallen, können Sie trotzdem weiter auf Ihre Daten zugreifen. Wechseln Sie die defekte Platte einfach im laufenden Betrieb aus. So bleiben Zwischenfälle dieser Art ohne Konsequenzen für Ihre Produktivität. Selbst das Hinzufügen einer weiteren Festplatte für mehr Speicherplatz ist im Betrieb möglich.
Konsequenz in Sachen Konnektivität wird auch durch die integrierten eSATA und USB Anschlüsse sichergestellt. Dort lassen sich externe Speichermedien, wie beispielsweise USB Sticks und Festplatten anschließen. Sie möchten einen Drucker im Netzwerk zur Verfügung stellen? Mit dem N5200 kein Problem. Schliessen Sie einfach einen Drucker an den USB Port an und geben Sie ihn zur Nutzung im Netzwerk frei.
Ungebremsten Zugriff auf Ihren wachsenden Datenbestand gewähren die beiden Gigagit Netzwerk Anschlüsse. In der Roustor Version des N5200 ist sogar ein Gigabit Switch integriert. Damit stehen Ihnen insgesamt fünf Netzwerkanschlüsse zur Verfügung. Mit dem optionalen WLAN-Adapter wird das N5200 zum Accesspoint und bietet so auch einen drahtlosen Zugang an.
Egal ob Windows, Mac OS oder Linux - das N5200 versteht sich mit allen gängigen Betriebssystemen mit Netzwerkunterstützung. Als Zugriffsprotokolle stehen unter anderem SMB, NFS, AFP und FTP zur Verfügung. So können Sie das N5200 auch in heterogenen Netzwerkumgebungen ohne Bedenken einsetzen. Der integrierte DLNA zertifizierte Media Server von Mediabolic ermöglicht es zudem Musik, Fotos und Videos über einen Netzwerk Stream abzurufen.
Das Thecus Backup Utility unterstützt Sie bei der regelmäßigen Datensicherung Ihrer PCs. Thecus Nsync ermöglicht eine - besonders im professionellen Bereich - geschätzte Funktion zum automatischen Sichern ausgewählter Daten auf einen externen Server.
Dank der von Thecus entwickelten innovativen Modul Architektur lässt sich das N5200 auf einfache Weise um zusätzliche Funktionen erweitern. So ist es Drittanbietern möglich Softwaremodule zu entwickeln, die einfach per Mausklick auf dem Gerät installiert werden können.
Das Thecus N5200 lässt sich über ein intuitives Web Interface konfigurieren. Das Anlegen von Benutzern und Freigaben wird damit zum Kinderspiel. Auch im Firmennetzwerk gelingt die Integration durch Benutzer Authentifizierung mit Microsoft NT Domain Controller (PDC) oder Microsoft Active Directory (AD) schnell und einfach. Durch vielseite Konfigurationsmöglichkeiten, lassen sich individuelle Zugriffsrechte für Benutzer und Ordner vergeben.
Techn. Daten
HDDs

5 x 3.5" SATA II HDD, Hot-swappable

eSATA port

1 x eSATA connector for capacity expansion

USB ports

2 x USB A type (Host mode)

1 x USB B type (Client mode)

Ethernet ports

N5200 : 2 x Gigabit RJ-45 Connector

N5200 RouStorTM : 1 x Gigabit RJ-45 Connector
4 port Gigabit switch

LCD Control Panel

For basic configurations and status display

Network File Protocols

Microsoft Networks (CIFS/SMB)

Apple Filing Protocol (AFP 3)

Network File System (NFS v3)

File Transfer Protocol (FTP)

Hyper Text Transfer Protocol (HTTP)

Secure Hyper Text Transfer Protocol (HTTPs)

Authentication

Microsoft NT Domain Controller (PDC)*

Microsoft Active Directory Authentication (AD)*

Network Client Type

Microsoft Windows NT/2000/XP/2003

Unix/Linux/BSD

MAC OS X, OS 9, OS 8.6

Network Configuration

Fixed IP Address

Dynamic IP Address

Disk Management

Power Management (Disk idle spin-down)

Disk Status Monitoring (S.M.A.R.T.)

RAID

RAID 0, 1, 5, 6, 10, and JBOD

Auto Rebuild

Hot Swappable

Hot Spare

Disk Roaming

RAID Level Migration

RAID Expansion

Disk Capacity Supported :

80/120/160/200/250/300/400/500/750/1000 GB

Folder Management

Share Folder Level Permission

File Level Permission

Public Folder

Quota Management

Share Folder Quota Control

Backup

Thecus Backup Utility (Microsoft Windows XP/2000 /MAC OS X)

Thecus Nsync

System Management

Web GUI

Multilingual Support (English, French, German, Italian, Traditional Chinese, Simplified Chinese, Japanese, Korean, Spanish)

Event Notification

Email Notification

Buzzer Notification

LCD

Supported USB Devices

USB Printer

External HDD/Flash disk

USB IEEE 802.11 b/g dongle w/ AP mode support **

Setup Utility

Windows 2000 / XP / 2003

MAC OS X

Safety and Environment

CE, FCC, BSMI, C-Tick, RoHS Compliant

Dimension

230 x 190 x 230 mm (H x W x D)

Media server

* Supports uPnP AV streaming protocol
* Works with DLNA-certified players

Physical

Lockable Disk Tray

Operating Environment

0℃ - 40 ℃

20 – 85﹪Relative Humidity (non-condensing)

Power Supply

Server-rated AC Power Supply

100/220VAC, 50/60 Hz, Auto detect

Power Consumption

Standby mode: 87W
Full Loading: 194W with 1.5TB Seagate * 5 HDD installed

Sound Pressure Level
Without HDD: 37.8 dB(A)
With HDD: 38.7 dB (A) with 1.5TB Seagate * 5 HDD installed
*PDC/AD support: Works as a client member in an Microsoft NT 4.0 domain/Active Directory domain, allowing the N5200 to utilize the domain users and groups setting for authentication to the system and authorization to the share folders.
**For supported USB dongles, please contact sales@thecus.com