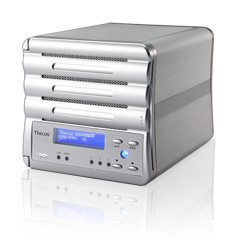 N3200XXX
Ein neues Zuhause für Ihre Medien
Rezensionen
Merkmale
Extreme Geschwindigkeit
Das N3200XXX nutzt einen Intel Atom N270-Prozessor für ausgezeichnete Systemperformance und hohe Dateiübertragungsgeschwindigkeit. Mit RAID 5 und einem deutlich verbesserten Datendurchsatz definiert das N3200XXX das 3-Bay-NAS hinsichtlich Benutzbarkeit, Funktionalität und Leistung wieder einmal neu.

Extreme Datensicherung
Sichern Sie Ihre Daten mit den hochkomplexen Funktionen und der raffinierten Einfachheit, die nur Thecus bieten kann. Mit der True-Image-Software von Acronis können Sie Ihre Daten durch inkrementelle Backups sichern und wiederherstellen, System Snap Shots erstellen und wenn es notwendig ist auch sofort wieder auf Ihre Daten zurückgreifen oder mit nativem Rsync-Support an jedem beliebigen Ort der Welt Ferndatensicherungen durchführen.

Extreme Energieverwaltung
N3200XXX unterstützt programmiertes Ein-/Ausschalten. Benutzer können mit dieser Funktion jetzt festlegen, wann das System ein- oder ausschaltet. Diese Funktion ist ein großes Plus für jeden, der Energie einsparen will. Mit Wake-On-LAN können Benutzer das System auch aus der Ferne einschalten, ohne weite Wege zurückzulegen

Extremer Schutz
Mit AES256bit RAID-Volume-Verschlüsselung und USB-Key-Funktionalität steht Sicherheit an erster Stelle. Diese AES256bit Verschlüsselung steht Ihnen zur Verfügung, damit nur diejenigen, denen Sie den Zugriff auf Ihre Daten gestatten möchten, auch tatsächlich auf Ihre Daten zugreifen können – und sonst niemand. Richten Sie einfach einen USB-Flash-Key ein, der Ihre Daten problemlos und mit maximaler Zuverlässigkeit sicher macht.

iSCSI Thin Provisioning-Support
Optimieren Sie mit sehr guten Datendurchsatzraten von iSCSI und der Effizienz von iSCSI Thin Provisioning die Nutzung Ihres Speicherplatzes. Verbinden Sie sich über iSCSI und profitieren Sie von sehr schnellen Datenübertragungsraten. Die Verschwendung von Speicherplatz ist mit der flexiblen Speicherfunktion von Thin Provisioning endgültig passé.

Online-RAID-Volume-Management
Dank dem Online-RAID-Volume-Management des N3200XXX ist die Verwaltung von RAID-Volumes sehr einfach. Administratoren können RAID-Volumes auf einfache Weise expandieren oder migrieren, ohne das System herunterzufahren. Kostenträchtige Ausfallzeiten werden somit vermieden.
Übersicht
Die neue XXX Serie von Thecus NAS ist wegweisend, wenn es um maßgeschneiderte Lösungen geht. Mit Xtreme power, Xtreme function und Xtreme value sind diese Thecus NAS ausgesprochen leistungsstark. Ob extrem schnelle 2-Bay NAS für Heimbüros oder extrem leistungsstarke 8-Bay-Rackmount NAS für Unternehmen mit höchsten Ansprüchen – der Thecus XXX NAS ist für Sie bereit.
Können Sie sich noch an den ersten CD-Markenplayer erinnern, den Sie nach Hause gebracht haben? Oder an den DVD-Player für Ihr Fernsehgerät? Jetzt ist es an der Zeit, den Thecus N3200XXX NAS in diese Liste einzureihen. Verbesserungen bei Multimedia-Speichern haben die Art und Weise verändert, wie Menschen ihr Leben genießen und andere daran teilhaben lassen. Heute können Sie mit verblüffend flexiblem Zugriff und einfachen Funktionen, die alles zusammenführen, Ihre Arbeit, Unterhaltung und Erinnerungen dort sicher aufbewahren, wo Sie sie benötigen und jederzeit abrufen.
Der 3-Bay N3200XXX NAS hat genau die richtige Größe, um all Ihre Daten zu speichern: z. B. Fotos, Musik oder Videos. Die einmal sicher abgelegten Dateien können nicht nur von jedem Ort in Ihrem Haus, sondern von überall auf der Welt geöffnet werden! Mit Ihrem NAS können Sie MP3 in Ihrem Schlafzimmer anhören (oder in Ihrem Hotelzimmer z.B. in Rom), Fotos in Ihrem digitalen Bilderrahmen zuhause  anzeigen oder gemeinsam mit der Familie HD-Filme auf Ihrem Fernsehgerät im Wohnzimmer ansehen (oder auf Ihrem Laptop am Flughafen in Hongkong). Mit dem schnellen Intel Atom Prozessor des N3200XXX können all diese Funktionen gleichzeitig von mehreren Leuten an verschiedenen Orten genutzt werden. Nie zuvor war der Zugriff auf Ihre Daten einfacher. Der Austausch von Fotos mit Freunden und Familie hat dank Piczza, dem brandneuen Fotoserver von Thecus, gerade einen Sprung in die Zukunft gemacht. Mit all diesen Funktionen und ausgezeichnetem Datenschutz sind Ihre Multimedia-Inhalte und Ihre Daten noch für lange Jahre verfügbar, gemeinsam nutzbar und sicher!
Techn. Daten
1.Hardware Platform
Item
Spec
Processor
Intel® Atom™ N270 Technology
SATA device
3x3.5" SATA for internal, 1xeSATA for external
System Memory
1024MB DDR2 SODIMM SDRAM
LAN Interface
RJ-45x2 : 10/100/1000 BASE-TX Auto MDI/MDI-X
LED indicator
Power(Blue)
HDD1-3 Activity/Fail(Green/Red)
WAN (Link : Green; Activity : Green)
LAN (Link : Green; Activity :Green)
Disk interface
SATA x3 , 1x eSATA for external
Power
96W external power adaptor
USB Interface
USB 2.0 host port x2 (Front x1, Back x1) (A Type)
LCM Module
2*16
Thermal/Fan control
Thermal sensor on processor temperature
System FAN speed controlled by temperature.
Real-time clock
Battery backup system clock
PCI slot
1
Power management
Power on after power lose resume
Buttons
Power button (Front, power down controlled by S/W)
Reset button (SW reset to default)
LCM button (ENT,ESC,UP, DOWN)
Buzzer
Frequency Controllable
Chassis
Tower Metal Chassis
Environment
Temperature : 5°C to 40°C
Humidity : 0 ~ 80 % R.H. (Non-condensing)

2. Software Functions
RAID
RAID modes
RAID 0, 1, 5 and JBOD
Auto-rebuild
Supported
Hot-swap
Supported
Hot Spare
Supported
SMART Info
Supported
SMART Test
Supported
On line RAID Migration
Supported
On line RAID Expansion
Supported
RAID Volume Encryption
AES256bit
Disk
Power management
Spin down while idle time setup
Bad Block Scan
Supported
Roaming
Supports roaming to other N3200XXX
Network
Configuration
Fixed IP Address, Dynamic IP Address
IP sharing mode
Can be enable/disabled
Transport Protocols
TCP/IP/Appletalk
File Protocols
SMB/CIFS, HTTP/HTTPS, FTP, TFTP, NFS v3, AFP
Link Aggregation
6 modes supported:
1. Local balance
2. Failover
3. Balance-XOR
4. 802.3ad
5. Balance-TLB
6. Balance-ALB
Data Access
Client OS support
Windows XP and after
Windows Server 2003 and after
UNIX/Linux
Mac OS X
WebDisk(module)
Web-based file access
TFTP
Build in TFTP Server
FTP
Build in FTP Server with bandwidth control
Secure FTP
Build in secure FTP Server with bandwidth control
Download Manager (Module)
HTTP / FTP / BT / eMule / NZB
Printer Server (IPP)
Supports USB printers
Supports IPP various printers
Client can manage print tasks (List/Delete) via Web user interface
Data Backup
Client schedule incremental data backup
Acronis True Image (OEM)
Client system Disaster Recovery
Acronis True Image (OEM)
USB device copy to N3200XXX
Through LCM to control
Snapshot
Supported
Bi-directional USB Copy (Module)
Supported
Native Rsync
Supported
Block Level Access
iSCSI Target
Supports Microsoft/Mac/Linux Initiator
iSCSI initiator
For stackable with other Thecus NAS which support stackable
iSCSI Thin Provisioning
Configurable to virtual size as system allowed capacity
Power management
Schedule power on/off
Supported
Volume management
Multiple file system selectable
EXT3 / EXT4 / XFS / ZFS
Multimedia Support
iTunes Server
Supports AAC, MP3 w/ ID3 tag and WAV
Photo Web Server
Supports GIF, JPG (JPEG) and PNG
Supports EXIF display
Supports slide show
Media server
Supports uPnP AV streaming protocol
User Authentication
Local User
Supports built-in user accounts
Local Group
Supports built-in user groups
Windows NT/ADS
Supported
File System
Type
Journaling File System
Language Support
Unicode Support
Authorization (ACL)
Read, Write or Deny options on individual users or groups for share and sub-folders
Administration
Multi-Lingual Web-based administration
Web-based server management Interface Supports English, Traditional Chinese, Simplified Chinese, Japanese, Korean, French, German, Italian, Spanish, Russian Polish and Portugal
Utility Program
MS Windows Setup Wizard,
Supports Windows 2000/XP/2003/Vista/7
Mac setup Wizard (OS X only)
Email notification
Sends system messages via Email to system administrator
SNMP trap
System information trap out
Others
Web Disk
Supported
User Quota
Supported
Recycled bin
Supported
Web Server (Module)
Supported
ISO Mount
Supported
User module
Supported
IP CAM surveillance (Module)
Supports up to 5 IP CAM
Inhalt des Lieferkartons
| | | | |
| --- | --- | --- | --- |
| | | | |
| Ethernet Cable | Power Cord | Power Adaptor | Acronis True Image DVD |
| | | | |
| Universal CD | QIG | Warranty Card | HDD Compatibility List Card |
How To Guides
Thecus TV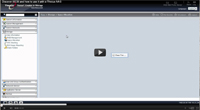 Discover iSCSI and how to use it with a Thecus NAS
This tutorial is separated in three parts. The first part will teach you what's iSCSI and how it can be used. The second and third part would be practical demonstration on iSCSI Target/Initiator. Only the second part requires a Thecus NAS!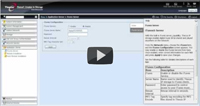 The basics of Thecus Firmware V5
Learn more about the brand new Firmware V5 for Thecus NAS. This video focus on UI improvements, user-friendliness features, and the new AMI (Auto Module Installation) which allows you to customize your NAS in a few clics. Live video starts at 2:18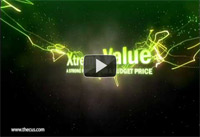 Thecus xXx series NAS
The new XXX line of Thecus NAS is leading the way in catering to your needs. With Xtreme power, Xtreme function, and Xtreme value, these Thecus NAS deliver. Whether it be a strong product for a budget price or a high-powered NAS for the tech-savvy, each model is extremely geared towards fitting you. From an extremely speedy 2-bay for your home office to an extremely powerful 8-bay rackmount for even the most demanding enterprise, Thecus XXX NAS are ready for you.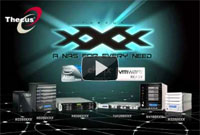 Thecus XXX Series Official Trailer
The new XXX line of Thecus NAS is leading the way in catering to your needs. With Xtreme Power, Xtreme Function, and Xtreme Value, these Thecus NAS deliver.