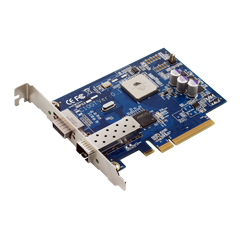 C10GT
10 Gb-Ethernet-Konnektivität der nächsten Generation
Merkmale
10 Gb-Ethernet-Konnektivität
Mit seinem Tehuti Luxor TN3020-D-Prozessor verleiht der C10GT Ihrem System Kompatibilität mit 10 Gb-Ethernet-Netzwerken der nächsten Generation. Die erhöhte Bandbreite sorgt für verblüffende Leistung beim Dateitransfer und eröffnet neue Bandbreitenwelten beim Zugriff auf Server- und Speicheranwendungen.
Zweifache Kabelschnittstelle
Der C10GT bietet eine einzigartige Doppelschnittstelle mit einem CX4-Port für Kupferkabel und einem SFP+-Port, der sowohl Kupfer- als auch Glasfaserkabel aufnehmen kann. Ob Sie in Ihrem Netzwerk mit Kupfer- oder Glasfaserkabeln arbeiten – der C10GT sorgt für beste Verbindungen.
Hohe Kompatibilität
Der C10GT ist mit einer Vielzahl unterschiedlicher Protokolle vollständig kompatibel; unter anderem mit IEEE 802.3ae, IEEE 802.3ak und IEEE 802.1q VLAN. Und da eine Reihe diverser Betriebssysteme einschließlich Windows® Server 2003, Windows Server 2008, Windows XP, Windows Vista und Linux unterstützt wird, lässt sich der C10GT problemlos in nahezu sämtliche Netzwerke einbinden.
Lückenlose WMI-Unterstützung
Systemadministratoren werden sich über die Kompatibilität des C10GT mit dem Windows Management Interface (WMI) freuen, das unkompliziertes Management lokaler und externer Computer auf schnelle und bequeme Weise ermöglicht.

Rüsten Sie Ihren Thecus® NAS einfach auf

Der C10GT ist ein PCI-e-Adapter voller Bauhöhe, der sowohl in PCI Express x4- als auch in x8-Steckplätzen installiert werden kann und daher hohe Kompatibilität mit unterschiedlichsten Systemen gewährleistet. Und das Beste: Der C10GT lässt sich auch in bestimmten Thecus®-NAS-Geräten installieren, die mit PCI Express x4- oder x8-Steckplätzen ausgestattet sind; so eröffnen Sie Ihrem Thecus®-NAS im Handumdrehen die Welt des 10 Gb/s-Ethernet.
Übersicht
As digital files grow larger in size, the amount of data being transferred over networks is ever increasing. Today, Thecus® Technology is pleased to announce the C10GT 10Gb Ethernet PCI-e Adapter. Featuring lightning-fast transfer speeds, dual cable connectivity, and simple installation and setup, the C10GT is a high-speed 10Gb ready network card designed to help users affordably take full advantage of the new upcoming 10Gb Ethernet standard.
The C10GT is a very capable and feature-packed network adapter. Powered by the enterprise-class Tehuti Luxor TN3020-D processor, the C10GT delivers efficient high-bandwidth access to server and storage applications, while requiring relatively low power for operation. Another standout feature of the C10GT is its dual cable interface, which features one CX4 port and one SFP+ port – perfect for accommodating both copper and fiber optic cabling.
On the software side, the C10GT is an extremely flexible device which is easily integrated into almost any network environment. It is compliant with IEEE 802.3ae, IEEE 802.3ak, and IEEE 802.1q VLAN standards, and supports a multitude of widely-adopted operating systems, including Windows® Server 2003, Windows Server 2008, Windows XP, Windows Vista, and Linux.The C10GT is also compatible with the Windows Management Interface (WMI), allowing administrators to easily manage both local and remote computers.
This full-height PCI-e adapter is easily installed in both PCI Express x4 and x8 slots, and can even be used to upgrade the following Thecus® NAS devices to 10Gb Ethernet capability:
-TopTower N6850
-TopTower N8850
-TopTower N10850
-N16000V
-N16000
-N7700PRO
-N7700+
-N8800PRO
-N8800+
"Next-generation 10Gb Ethernet is going to be the new standard for enterprises of the future," said Florence Shih, Thecus® Technology General Manager. "With our new C10GT, businesses can fully leverage the speed and convenience of this advanced technology today."
Techn. Daten
1. Hardware-Plattform
Item

Spec

PCI Express Host Bus Interface

Compatible with PCI Express x4, x8 slots

Interface

SFP+ x1
CX4 x1

Cabling Type

SFP+ Optical GBIC transceiver
SFP+ Copper Cable
CX4 (10G) Copper Cable

LED indicator

LINK : Solid Green LED

Power Consumption

3.2W (Dual Port)

Dimension

Full-height

Operating Temperature

0 ºC to 70 ºC

Storage Temperature:

-40ºC to 85 ºC

Certifications

RoHS compliant, CE, FCC, C-Tick, VCCI, BSMI

2. Software-Funktionen
Item

Spec

Kompatibel mit Thecus NAS PCI-e Slot

N7700PRO/ N7700+ /N8800PRO/N8800+

MAC Interfaces

IEEE 802.3ae, IEEE 802.3ak, IEEE 802.1q
VLAN compliance
Jumbo Frame support (up to 16k)
MIB statistics

Unterstützte Betriebssysteme

Windows® Server 2003, Server 2008, XP, Vista
Linux 2.4.X Linux 2.6.X, Redhat Distributions, Linux 64-bit
Multiple queues management
Windows Management Interface (WMI)
Inhalt des Lieferkartons
| | | |
| --- | --- | --- |
| | | |
| Universal CD | QIG | Warranty Card |