NVR42
Total NVR Storage Solution
Merkmale
All-in-One System Integration

Get your storage center, video capture card, network server, and software all in the same place. Thecus NVR are ready to go right out of the box: just create RAID, install the NVR plug-in, and you're already up and running in less than 30 minutes. Camera Setup Cloning lets you save more time by using the same settings for different cameras with the click of a button.

Multi Screen Operation

See everything at once with drag and drop functionality across multiple screens. Each screen is capable of displaying multiple camera views, full screen, or both.

Enhanced Camera Views and Remote PTZ

Remote PTZ (pan/tilt/zoom) control allows you to adjust the viewing angle and zoom of a camera from monitoring stations anywhere in the world. Also, take better control of your cameras with adjustable aspect ratios, HDTV support, stretching and cropping of video, and advanced port control.

Motion Detection

Motion detection functionality gives you the ability to select a time frame during which motion detection will be activated. You can also limit motion detection to a portion of the viewing field in order to monitor very specific items or areas and recording their surroundings when these areas are activated. Events are denoted with a "red triangle" for easy recognition in the calendar archive view.

Data Protection Algorithm
Recorded data is protected by a proprietary algorithm to prevent tampering or editing. This makes all recorded video, both from within the archive or exported, permissible in a court of law. Playback of original recordings is only allowed through the NVR video archive.

Multiple Format Support
To keep a separate record of events of your choice, a variety of formats are supported for exporting video including MJPEG, MPEG-4, H.264 and MxPEG.

Event Management System

Event alarms and detailed records work with motion detection and video analytics to keep you on top of everything that is happening. These alarms and records are easily configured, accessed, and searched through with the Event Management System. Video streams can be marked with advanced time stamps for powerful searching and analysis, and events can be prioritized to make your surveillance system react only to specific actions, creating fewer false positives.

HTTPS Support*
You can choose to encrypt communication between your cameras and your NVR to keep away from prying eyes.

Enhanced Built-In iCAT Video Analysis*

Netavis' advanced video analysis software is capable of people and object counting, Smart Tripwire analysis, illegal starting and stopping object analysis. Get improved performance with dual streaming video analytics and configure automatic export of iCAT statistical data from your NVR.

Adaptive Balanced Streaming*

This unique ABS technology is capable of supporting megapixel cameras serving in limited bandwidth environments. This technology keeps your image quality high even if your bandwidth is low.

*Requires Netavis Observer Extended or above
Übersicht
Heute kündigte Thecus® Technology, einer der Marktführer im Bereich digitaler Speicherlösungen, voller Stolz eine völlig neue Produktreihe der Thecus® Networked Video Recording- (NVR-) Systeme an. Ausgerichtet auf die Bereitstellung blitzschneller Leistung, robuster Funktionen und massive Speicherkapazität sind die NVR-Systeme von Thecus® die optimale Wahl für Benutzer, die eine leistungsstarke und zugleich      flexible Videoaufnahme- und Überwachungslösung benötigen.
Thecus® NVR-Lösungen sind wirklich mehrere Geräte in einem: Ein Netzwerk-Videorecorder, ein Echtzeit-Überwachungssystem und ein Netzwerk-Speichergerät. Verfügbar in Desktop- und Rackmount-Formfaktoren bietet sich Unternehmen die Flexibilität zur Auswahl der Konfiguration, die ihren Anforderungen gerecht wird. Jedes NVR-Gerät von Thecus® kann mit mehreren Kameras gleichzeitig zusammenarbeiten, dadurch können Unternehmen mehrere Orte mit einem einzigen System überwachen. Außerdem ermöglichen Thecus®' neue NVR-Lösungen Überwachung und Aufnahme in Echtzeit und unterstützen mehrere Videodateiformate, dies gewährleistet maximale Sicherheit und Effektivität bei der Überwachung.
Als Thecus®-Produkt sind die Speicherfähigkeiten der NVR-Lösungen von Thecus® natürlich  unübertroffen. Alle Geräte verfügen über mehrere SATA-Festplatteneinschübe, die massive Speicherkapazität zur stundenlangen Aufnahme hochwertiger Videos bieten. Auswählbare RAID-Modi gehören zur Standardausstattung und helfen dabei, die gespeicherten Videoinhalte jederzeit zu schützen. Und zur Bereitstellung der besten Softwareschnittstelle überhaupt werden die NVR-Lösungen von Thecus® mit NETAVIS-Videoüberwachungssoftware geliefert - eine unübertroffene Kombination aus bestmöglicher Hardware und hochmoderner Software.
| | | |
| --- | --- | --- |
| Model Name | HDD Bays | Form Factor |
| NVR42 | 4 | Desktop |
| NVR55 | 5 | Desktop |
| NVR77 | 7 | Desktop |
| NVR46 | 4 | 1U Rackmount |
| NVR88 | 8 | 2U Rackmount |
"Nachdem wir bereits einige der fortschrittlichsten Netzwerkspeicherlösungen auf den Markt gebracht haben, haben viele Kunden den Wunsch nach einer NVR-Lösung von Thecus geäußert", so Florence Shih, Thecus® Technology-Geschäftsführer. "Mit der heutigen Ankündigung bietet sich Benutzern nun eine völlig neue Produktreihe von NVR-Geräten – von Thecus® auf Leistungsfähigkeit, Qualität und Funktionalität ausgerichtet."
Techn. Daten
1.Hardwareplattform
Element

Spezifikation

Prozessor

Intel® Atom™-Prozessor D510

Systemspeicher

2 GB DDR2 SDRAM

LAN-Schnittstelle

RJ-45 x 2: 10/100/1000 BASE-TX, Auto-MDI/-MDI-X

LCD-Anzeige

HDD-Betrieb, Aktivität (gelb) / Fehler (rot)
LAN/WAN-Aktivität (grün)
USB-Kopie, beschäftigt (blau)
USB-Kopie, Fehler (rot)

OLED-Modul

2,8 Zoll-OLED-Bildschirm
4 Tasten (Enter, Esc, Aufwärts, Abwärts)
Unterstützung mehrerer Sprachen

Stromversorgung

Externes Netzteil, 19 V-Eingang (unterstützt vier HDD-Festplatten mit 2 TB und mehr)

Festplattenschnittstelle

4 x SATA intern, 2 x eSATA extern

Erweiterungssteckplatz

PCIe x 1

USB-Schnittstelle

USB 2.0-Host-Port x 6 (vorne x 2, hinten x 4) (Typ A)

Thermal-/Lüftersteuerung

Thermalsensor misst System- und Prozessortemperatur
Temperaturgesteuerte Geschwindigkeit des Systemlüfters

Umgebung

Temperatur: 5 °C bis 40 °C
Feuchtigkeit: 0 - 80 % relative Luftfeuchtigkeit (nicht-kondensierend)
2. Softwarefunktionen
Überwachung

Architektur

Einzel-Server-System

Max. Anzahl an Benutzern

3

Max. Anzahl an Kameras

4/8/12

Audio

Mehrkanal-Audio

Darstellung

Layouts von bis zu 10 x 10, Zufalls- und Routenfunktionen

FPS einstellbar

Ja

Max. Auflösung

5 Megapixel

Videoformate

MJPEG, MPEG-4, H.264 und MxPEG (nur Mototix)

Exportieren

avi, jpeg, safe

NVR-Bewegungserkennung

Ja

PTZ-Steuerung

Ja

Mehrfachüberwachung / Client

Ja / Ja

Ereignisverwaltung

Ja

Benachrichtigung

Per eMail

Fernzugriff

Ja

Browserzugriff

Ja (Vollzugriff)

Architektur

Client/Server

RAID

RAID-Modi

RAID 0, 1, 5, 6, 10, JBOD

Auto. Wiederherstellung

Unterstützt

Hot-Swapping

Unterstützt

Hot-Spare

Unterstützt

S.M.A.R.T.

Unterstützt

Festplatte

Energieverwaltung

Reduzierung der Drehzahl entsprechend der Einstellungen der Inaktivitätszeit

Netzwerk

Konfiguration

Feste IP-Adresse, dynamische IP-Adresse

Transportprotokolle

TCP/IP

Dateiprotokolle

SMB/CIFS, FTP

Datenzugang

Unterstützte Client-Betriebssysteme

Windows 2000/XP/2003/Vista/7

FTP

Dateiübertragungsprotokoll

Datensicherung

Kopie der Daten des USB-Gerätes auf das NVR42

Steuerung über OLED

Benutzerauthentifizierung

Lokaler Benutzer

Unterstützt integrierte Benutzerkonten

Lokale Gruppe

Unterstützt integrierte Benutzergruppen

Dateisystem

Typ

Journaling-Dateisystem

Sprachunterstützung

Unicode-Unterstützung

Authentifizierung (ACL)

Zuweisung von Lese- und Schreibrechten sowie das Verweigern dieser bei individuellen Benutzern und/oder Gruppen bezüglich der Freigabe und Ordnerebenen

Administration

Mehrsprachige webbasierte Administration (Standard: Auto.), nur bei Speicherbenutzeroberfläche

Webbasierte Serververwaltungsschnittstelle unterstützt Englisch, Traditionelles Chinesisch, Vereinfachtes Chinesisch, Japanisch, Koreanisch, Französisch, Deutsch, Italienisch, Spanisch, Russisch, Polnisch und Portugal.

Dienstprogramme

MS Windows-Einrichtungsassistent, unterstützt Windows 2000/XP/2003/Vista/7

eMail-Benachrichtigung

Sendet Systemmitteilungen per eMail an den Systemadministrator
Inhalt des Lieferkartons
| | |
| --- | --- |
| | |
| Accessory Bag(with key) | Power Adaptor |
Thecus TV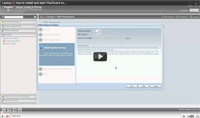 Lesson 1: how to install and start VisoGuard on your Thecus NVR?
This lesson will teach you the basics of your NVR in 5 minutes: setting up the network configuration, the admin password, creating your first RAID volume and finally launch Thecus VisoGuard solution. The RAID creation time (which can varies depending on RAID levels, amount of disks and NVR model) have been cut for the video. No specific knowledge is required but you'll need a Thecus VisoGuard NVR plugged into your local network and a computer with Thecus Wizard, Java and an Internet Browser installed.