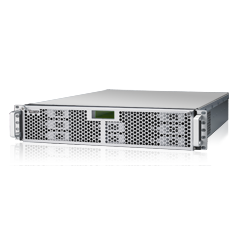 i8500
Flexible iSCSI storage device with Advanced data protection
Merkmale
Robust Data Management
Every organization is different. The i8500 empowers your organization with a bevy of RAID modes, including RAID 0, 1, 0+1, 3, 5, 6, 10, 30, 50, 60 and JBOD. Choose the configuration that makes the most sense for your network or setup different arrays for different jobs. With the i8500, the choice is yours.

Superior Data Protection
Crucial company data can't be left to chance, which is why the i8500 is built for data security. Choose the optional Battery Backup Module (BBM) and enable the i8500 to safeguard unwritten data even in the event of a power outage. The i8500 even allows up to 32 snapshot versions, letting you easily rollback changes made to the system when the need arises.

Ultimate Flexibility and Connectivity
As your company's needs change, the i8500 can easily change along with it. Online disk roaming gives you the flexibility to install your drives into another i8500 without any data loss. And online volume expansion, migration, auto-rebuilding allow you to add extra storage at any time without service interruptions. What's more, the i8500 supports 8 host cluster connections per volume, allowing it to act as a centralized data storage pool for even large organizations.

Blazing System Performance and Speed
Your business moves fast and so should your data. Equipped with an Intel Xscale IOP CPU and 1GB of DDR RAM, the i8500 not only offers nearly instantaneous system response, but also enables transfer speeds of up to 105MB/s with a single port and 190MB/s with dual ports.

Übersicht
Storing, securing, and managing data is vital for virtually every business today. This is why companies require storage solutions that deliver on all of these fronts while remaining cost effective. For these users, Thecus® Technology, a worldwide leader in digital storage, is pleased to introduce the i8500 Storage Device, a cutting-edge data storage solution for the enterprise user. 
In business, users have to be ready for the unexpected, which is why the i8500 was engineered with total data security in mind. It begins by giving the system administrator a bevy of RAID modes, including RAID 0, 1, 0+1, 3, 5, 6, 10, 30, 50, 60 and JBOD for ultimate flexibility and data protection. The eight SATA II hard disk bays of the i8500 can accommodate up to 16TB of storage, and dual Gigabit Ethernet ports allow users to access stored data quickly. To further ensure data integrity, the i8500 can also be configured with an optional battery backup module (BBM), a Li-ion battery that retains unwritten data inside RAM for up to 72 hours. Once power is restored, this data is automatically written to the disks for safe keeping. The i8500 can even take up to 32 snapshot versions, allowing admins to easily rollback any changes made to the system. With features like these, the i8500 is a digital stronghold for the corporate network.
But the i8500 is also built for flexibility. With online disk roaming, admins can easily remove the hard disks and install them into another i8500 unit while retaining all stored data. Got a large organization? The i8500 can also support 8 host cluster connections per volume, which means that up to 8 users can access a particular volume simultaneously and offers a centralized data storage pool for even large organizations. The flexibility continues with support for Windows, MAC OS and Linux, as well as online volume expansion and migration, auto-rebuilding, and support for up to 256 logical volumes. Snappy system response is delivered by the onboard Intel® Xscale IOP Processor and 1GB of DDR RAM, which provides transfer speeds of up to 105MB/s with a single port and 190MB/s with dual ports.
"The i8500 raises the bar once again for enterprise-class storage," said Florence Shih, Thecus General Manager. "With massive storage capacity, iron-clad data protection, and nearly infinite flexibility, the i8500 is ideal for corporate environments where data security and availability are paramount."
Techn. Daten
1. Hardware Platform
Item

Spec

Processor

Intel Xscale IOP Processor

SATA interface

8xSATA for internal

UARTS

Support for serial console management and UPS

Fast Ethernet port

For web-based management use.

Backend

Supports 8 SATA 1.0, 1.5Gb/s or SATA 2.0, 3Gb/s both

Front-end

Two gigabit Ethernet ports
(Intel_82546 PCI-X GbE NIC controller)

LCM

Displays system status information

Power supply

350W Redundant Power Supply

Max. system capacity

16 TB

Buttons

Power button
LCM button (ENT,ESC,UP, DOWN)

Environment

Temperature : 5C to 40 C
Humidity : 0 ~ 80 % R.H. (Non-condensing)

Dimension

2U Rack Mount 90(H) x 428(W) x 586(D) mm

2. Software Function
RAID & Volume Operation
RAID level: 0,1,0+1,3,5,6,10,30 ,50,60 and JBOD
Supports snapshot / rollback function (volume base)
32 versions of snapshot in volume based
8host connections per logic volume and 32 connections per system
Up to 256 logical volumes in the system
iSCSI jumbo frame support
Global and dedicated hot spare disks
Write-through or write-back cache policy for different application usage
Multiple RAID volumes support
Configurable RAID stripe size
Online volume expansion
Online volume migration
Instant RAID volume availability
Auto volume rebuilding
Adjustable volume rebuilding priority
Drive Support
HDD S,M.A.R.T. enabled for SATA drives
Disk auto spin-down support
Hot swappable
Online disk roaming
SCSI-3 compliant
Multiple IO transaction processing
Tagged command queuing
Advanced Data Protection
Local N-way mirror
Online array roaming
Smart faulty sector relocation
Battery backup module support ,BBM(Optional)
Enclosure Monitoring
UPS management via the specific serial port
3.3V, 5V and 12V voltage monitor
Thermal sensors x 3 on the controller BOARD
(for CPU and the onboard switching power solution)
Management Interfaces
Management UI via serial console, SSH telnet and HTTP Web UI
Online system firmware upgrade mechanism
Event notification via Email, SNMP trap, browser pop-up windows,
System logs, and Windows Messenger.
Run-time IO transactions recording
Built-in LCD module to control most enclosure components
iSNS and DHCP support
Host Connection
iSCSI MC/S support
Microsoft MPIO enabled
iSCSI jumbo frame support
CHAP authentication enabled
LUN access control: Read-Write and Read-Only
Up to 32 host connections
Supports Windows, Linux and MAC OS
Supported Operating System
Windows NT/XP/2003/Vista
Mac 9.1 and above, including OSX, OSX Server, XSERVE
Linux (all latest builds) which support iSCSI.
And all other systems supporting iSCSI protocol
Inhalt des Lieferkartons
Accessory Bag(with key)
Ethernet Cable
Power Cord
Universal CD
Warranty Card