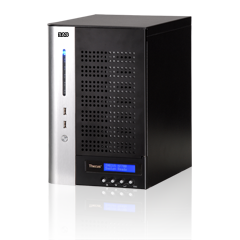 N7700SAS
Maximale Leistung mit Core 2 Duo
Rezensionen
2010-06-14
Media: Hispazone | Country: Spanien

"Unnötig zu erwähnen, dass dieses NAS das leistungsstärkste Gerät ist, das wir getestet haben. Das Gerät kann nicht nur bis zu 14 TB Speicherkapazität in unser Netzwerk einbringen; es tut dies zudem auf extraordinäre Weise sowie mit überzeugender Geschwindigkeit und Reaktionsfähigkeit. NAS wie dieses gestalten die Büroarbeit effizienter und unterstützen jegliche Plattformen; die Aufgaben zur Datenpflege gestalten sich allen Anwendern natürlich und einfach."
2009-11-23
Media: PC PRO | Country: UK

"Thecus' neues SAS-ausgestattetes Gerät ist ein Energiebündel. Es könnte mehr unternehmensrelevante Funktionen enthalten, doch es kommt mit zahlreichen Aufgaben gut klar, was es zum schnellsten aktuell verfügbaren NAS-Gerät macht."
more...
Merkmale
Durchschlagende Dual-Core-Leistung
Der N7700SAS ist zur Gewährleistung bahnbrechender Geschwindigkeiten und Leistung mit Intel Core 2 Duo-Technologie ausgestattet. Mit dem N7700SAS können gewerbliche Nutzer die erhöhte Anzahl gleichzeitiger Verbindungen sowie blitzschnelle Systemreaktionszeiten genießen.

Einzigartiges Dual-DOM™-Design
In Unternehmen ist der stetige Zugang zu betriebsnotwendigen Daten essentiell. Der N7700SAS ist mit einem Dual-DOM-Design (Disk On Module) ausgestattet, das problemlosen Betrieb und maximale Betriebszeit ermöglicht.

Unterstützung seriell angeschlossener SCSI-Festplatten
Treten Sie mit dem N7700SAS einer neuen Generation der Datenleistung bei. Dieses technische Wunder mit sieben Einschüben bietet vollständige Unterstützung seriell angeschlossener SCSI-Festplatten (SAS) zum ultraschnellen Datendurchlauf.

Felsenfeste Zuverlässigkeit
Jedes Unternehmen muss auf seine Datensicherheit vertrauen können. Diesen Anwender garantieren der N7700SAS und seine multiplen RAID-Modi, dass Daten jederzeit geschützt bleiben.

Maximale Flexibilität
Zur Gewährleistung einer Integration in nahezu jedes Unternehmensnetzwerk können Administratoren zwischen verschiedenen Dateisystemen auswählen – darunter Ext3, XFS und ZFS. Zudem bietet der N7700SAS Kompatibilität mit iSCSI-Initiatoren zur Erzielung hervorragender Datenübertragungsgeschwindigkeiten.
Übersicht
Thecus®, der Markführer im Bereich digitaler Speichergeräte, hat heute die Verfügbarkeit seines aktuellsten NAS-Servers mit sieben Einschüben, den N7700SAS, angekündigt. Mit seiner Massenspeicherkapazität und bahnbrechenden Technologie ist der N7700SAS ein für den geschäftlichen Einsatz geeigneter -NAS-Server, der unglaubliche Flexibilität, Zuverlässigkeit und Erweiterbarkeit bietet.
Der N7700SAS legt die neuesten Technologien auf den Tisch, u. a. sieben SATA-/SAS-Festplatteneinschübe, die mehrere Terabyte Speicherplatz aufnehmen können. Zur Handhabung all dieser Daten ermöglicht Ihnen ein Intel® Core 2 Duo-Prozessor und  DDR2-Speicher mehrere gleichzeitige Verbindungen und schnellere Systemreaktionszeiten. Im Hinblick auf den Datenschutz bietet Ihnen der N7700SAS zahlreiche RAID-Modusoptionen, u. a. RAID 0, 1, 5, 6, 10 und JBOD. Der N7700SAS unterstützt auch mehrere RAID-Partitionen, was Systemadministratoren ermöglicht, die gewünschte Kombination aus RAID-Partitionen für das Netzwerk auszuwählen. Falls Änderungen notwendig werden, verfügt der N7700SAS zur maximalen Flexibilität auch über Online-RAID-Erweiterung, Online-RAID-Migration und automatische Wiederherstellung.
Apropos Flexibilität: Der N7700SAS unterstützt mehrere Dateisysteme, darunter XFS, EXT3 und ZFS. Anwender können das gewünschte System auswählen und die von verschiedenen Anwendungen benötigte Kapazität erstellen. Denjenigen, die sogar noch mehr Leistung benötigen, bietet der N7700SAS eine Unterstützung von iSCSI-Initiatoren, wodurch Unternehmen eine durchschlagende Dateiübertragungsleistung via Ethernet erzielen können – ohne Stress oder zusätzliche Ausgaben für Glasfaserleitungen. Der N7700SAS verfügt zudem über ein Dual-DOM-Design; das zusätzliche DOM ist zur Gewährleistung eines kontinuierlichen und einwandfreien Betriebs des Gerätes installiert. Somit müssen sich die Anwender nicht mehr um Ausfallzeiten aufgrund unerwarteter Systemfehler sorgen.
"Der N7700SAS bietet eine Fülle von Technologien, die gewerbliche Anwender mit größtmöglicher Geschwindigkeit, Flexibilität und Funktionalität unterstützen," sagte Florence Shih, Geschäftführer von Thecus® Technology. "Mit seinem enormen Speicher und der unglaublichen Erweiterbarkeit kann der N7700SAS gemeinsam mit kleinen sowie großen Unternehmen wachsen und gedeihen."
Techn. Daten
1. Hardware Platform
Item

Spec

Processor

Intel Core 2 Duo Technology

SATA/SAS device

7 x SATA/SAS for internal, 1 x eSATA for external

System Memory

4GB DDR2 SDRAM *

LAN Interface (PCI-e)

RJ-45x2 : 10/100/1000 BASE-TX Auto MDI/MDI-X WOL supported

USB Interface

USB 2.0 host port x4(Front x2, Back x2) (A Type)

LCM

Displays system status and information

LED indicator

Power(Blue)
System Status : Busy (FW Upgrade)(Orange)
HDD1-7 Activity/Fail(Green/Red)
WAN (Link : Green; Activity : Green)
LAN (Link : Green; Activity :Green)
USB (Copy LED: Blue)
eSATA (Activity LED:Blue)

PCI-e x 1 slot

1

Power supply

300W Power Supply support 2TB and above HDDx7

Disk interface

SATA/SAS x7 via backplane

Thermal/Fan control

Thermal sensor on processor temperature
Temperature controlled system FAN speed
System fan monitoring
Buttons
Power button(Front, power down controlled by S/W)
LCM button (ENT,ESC,UP, DOWN)

RS232

1 (For UPS)

Environment

Temperature : 5°C to 40°C
Humidity : 0 ~ 80 % R.H. (Non-condensing)

Dimension

Tower Base

2. Software Functions
RAID

RAID modes

RAID 0, 1, 5,6,10,JBOD

Auto-rebuild

Supported

Hot-swap

Supported

Hot spare

Supported

SMART Info

Supported

SMART Test

Supported

On line RAID Migration

Supported

On line RAID Expansion

Supported

RAID Volume Encryption

AES256bit

Disk

Power management

Spins down while idle time setup (SATA HDD only)

Bad Block Scan

Supported

Roaming

Supports roaming to other N7700SAS

Network

Configuration

Fixed IP Address, Dynamic IP Address,

IP sharing mode

Can be enabled/disabled

Transport Protocols

TCP/IP/Appletalk

File Protocols

SMB/CIFS, HTTP/HTTPS, FTP, NFS v3, AFP

Link Aggregation

802.3ad, load balance and fail over

Data Access

Client OS support

Windows XP and after
Windows Server 2003 and after
UNIX/Linux
Mac OS X

WebDisk

Web-based file access

FTP

Build in FTP server with bandwidth control

Secure FTP

Build in secure FTP server with bandwidth control

Download Manager

HTTP / FTP / BT / eMule

Printer Server (IPP)

Supports USB printers
Supports IPP various printers
Client can manage printtasks(List/Delete) viaWEB user interface

Data Backup

Client schedule incremental data backup

Acronis True image(OEM version)

Client system Disaster Recovery

Acronis True image(OEM version)

NAS Remote Replication

Via Thecus proprietary Nsync

USB device copy to N7700SAS

Through LCM to control

Snapshot

Supported

Bi-directional USB Copy

Supported

Block Level Access

iSCSI Target

Supports Microsoft/Mac/Linux Initiator

iSCSI initiator

For stackable with N5200/1U4500/N5500/N7700/N8800

iSCSI Thin Provisioning

Supported

Power management

Schedule power on/off

Supported

Volume management

Multiple RAID

Supported

Multiple file system selectable

Ext3 / XFS / ZFS

Multimedia Support

iTunes Server

Supported File Types: AAC, MP3 w/ ID3 tag, WAV

Photo Web Server

Supported File Types: GIF, JPG (JPEG), BMP, PNG
Support EXIF display
Support slide show

Media server

Supports uPnP AV streaming protocol

User Authentication

Local User

Supports built-in user accounts

Local Group

Supports built-in user groups

Windows NT/ADS

Supported

File System

Type

Journaling File System

Capacity

14TB (XFS,ZFS) / 8TB (ext3) per volume

Language Support

Unicode Support

Authorization (ACL)

Read, Write or Deny options on individual users or groups for share and sub-folders

Administration

Multi-Lingual Web-based administration (Default auto)

Web-based server management Interface Supports English, Traditional Chinese, Simplified Chinese, Japanese, Korean, French, German, Italian, Spanish, Russian and Polish

Utility Program

MS Windows Setup Wizard, supports Windows 7/2000/XP/2003/Vista
Mac setup Wizard (OSX only)

Email notification

Sends system messages via Email to system administrator

SNMP trap

System information trap out

Others

Dual DOM

Supported

Web Disk

Supported

Recycled bin

Supported

Web Server (Module)

Supported

ISO Mount

Supported

User module

Supported

IP CAM surveillance Server(Module)

Supports up to 5 IP CAM
* Shipment after 09/28/2009.
Inhalt des Lieferkartons
| | | | |
| --- | --- | --- | --- |
| | | | |
| Accessory Bag(with key) | Ethernet Cable | Power Cord | Acronis True Image DVD |
| | | | |
| Universal CD | QIG | Warranty Card | HDD Compatibility List Card |
How To Guides