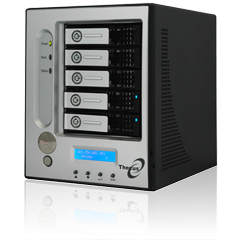 i5500
Unrivaled performance and security for modern enterprises
Merkmale
Unparalleled Performance
For users that need their data in a hurry, the i5500/i4500R has them covered. The i5500/i4500R brings unparalleled data throughput via iSCSI. With a powerful Intel® XScale CPU and 512MB of DDR memory, the i5500/i4500R delivers blazing performance for even the most demanding storage user.

Uninterrupted RAID Capacity Expand
Need to add more storage capacity to the i5500/i4500R but can't afford the downtime? The i5500/i4500R features online RAID capacity expansion, which means that users can have bigger hard disks added to available slot and joining an existing RAID without having to power down the system. The i5500/i4500R will automatically rebuild your RAID array and increase your storage capacity with zero downtime.

Dynamic Volume Management
With the i5500/i4500R, flexibility is the name of the game. With the i5500/i4500R, users can change volume sizes on the fly without having to reboot or restart the system. Is your database starting to outgrow the space you originally allocated it? Simply reconfigure the volume from the web interface and assign unused capacity to your existing volume without any service interruptions.

Cost Effective
The i5500/i4500R is far and away the price/performance leader. Instead of setting up a costly and complicated fiber channel network throughout your office for block level data sending, the i5500/i4500R accomplishes this via iSCSI. With the i5500/i4500R, users can obtain close to fiber channel class performance at a fraction of the cost.

Easy Integration
With its dual Gigabit Ethernet ports, the i5500/i4500R was designed to be easily integrated into existing network infrastructures. Simply connect the i5500/i4500R to your Ethernet network and begin enjoying legendary Thecus performance and data security.
Übersicht
Das i5500 ist eine hochperformante iSCSI-Storagelösung, welche Ihren Servern und Workstations hohe Datenkapazitäten mit kompromissloser Zuverlässigkeit zur Verfügung stellt. Die leistungsfähige Intel-Hardware-Plattform mit Xscale CPU und 512MB RAM gewährleistet dabei Datenraten von mehr als 150MB/s bei optionaler Bündelung beider Gigabit-Ethernet-Ports. Konzipiert für den Einsatz in professionellen IT-Umgebungen, hilft das i5500 stetig wachsende Storage-Bedürfnisse zu befriedigen, Kosten zu sparen und die Produktivität zu steigern.
Ihre Daten speichert das Thecus i5500 auf bis zu fünf SATA-II Festplatten. Permanente Sicherheit garantiert die RAID-Unterstützung. Sollte eine Festplatte ausfallen, können Sie trotzdem weiter auf Ihre Daten zugreifen. Wechseln Sie die defekte Platte einfach im laufenden Betrieb aus. So bleiben Zwischenfälle dieser Art ohne Konsequenzen für Ihre Produktivität. Selbst das Hinzufügen einer weiteren Festplatte für mehr Speicherplatz ist im Betrieb möglich. Dank automatischer eMail-Benachrichtigung sind sie jederzeit über den aktuellen Systemstatus informiert.
Das iSCSI-Protokoll erlaubt die Anbindung des i5500 an alle gängigen Betriebssysteme, die als iSCSI-Initiator fungieren können. Da der Zugriff auf die Datenbestände wie bei einer lokalen Festplatte blockbasiert erfolgt, entstehen keinerlei Einschränkungen hinsichtlich der verwendeten Dateisysteme und Anwendungen. So wird die Kapazitätserweiterung Ihres vorhandenen Systems zum Kinderspiel. Einmal eingerichtete Volumes lassen sich im laufenden Betrieb vergrößern – das Thecus i5500 wächst mit Ihren Anforderungen.
Die Konfiguration des i5500 erfolgt über ein komfortables Web-Interface. Erstellen und Verwalten Sie dort RAID-Konfigurationen und Volumes. Logical Unit Number (LUN) Unterstützung erlaubt die gezielte Zuweisung von Lese- und Schreibrechten für unterschiedliche Hosts.
Wenn Sie den Ort der Datenhaltung auslagern möchten oder schlicht Kapazitäten erweitern wollen, ist das Thecus i5500 die preisgünstige Alternative zu aufwändigen Fibre Channel Lösungen. Nutzen Sie einfach Ihre vorhandene Netzwerkinfrastruktur, ohne auf hohe Datenraten und Sicherheit zu verzichten. Egal ob Datenbanken, Backups, Anwendungs- oder Nutzerdaten – mit dem Thecus i5500 sind Sie für alle Storageanforderungen bestens gerüstet.
Techn. Daten
Key Components
CPU: Intel Xscale IOP80331
Memory: 512MB DR333 DIMM supported
UARTs: Supports of serial interface of UPS.
Fast Ethernet port: For Web-based management use.
Microsoft Multipath I/O support (MPIO)
Front-end: One Intel GbE controller with two gigabit Ethernet ports.
LCM supported for easy management use.
NVRAM for IO transaction record
Max. system capacity 1TB x 5
Hot Swappable
Enclosure Monitoring
UPS management via the specific serial port
3.3V, 5V and 12V voltage monitor
Thermal sensor x 3 on controller board
RAID & Volume Operation
RAID level: 0,1,0+1,3,5,6,10 and JBOD
Up to 256 logical volumes in the system
Global and dedicated hot spare disks
Write-through or write-back cache policy for different application usage
Dedicated or shared cache allocation for volume usage
Multiple RAID volume support
Configurable RAID stripe size
Online volume expansion
Instant RAID volume availability
Auto volume rebuilding
On-line volume migration
Management Interface
Management via web UI.
Online system firmware upgrade mechanism
Event notification via Email and SNMP trap.
Run-time IO transactions recording
Built-in LCD module to control most enclosure components
Advanced Data Protection
Local N-way mirror
Offline array roaming
Smart faulty sector relocation
Physical & Environment
Operating Temperature 10°C ~ 35°C
Non-Operating Temperature -10°C ~ 50°C
Operating Humidity 20% to 90% non-condensing
Supported Operating System
Windows XP Pro/2003/Vista
Mac 9.1 and above, including OSX, OSX Server, XSERVE
Linux (all latest builds) which support SCSI.
And all other systems supporting SCSI protocol
Inhalt des Lieferkartons
Accessory Bag(with key)
Ethernet Cable
Power Cord
Universal CD
Warranty Card