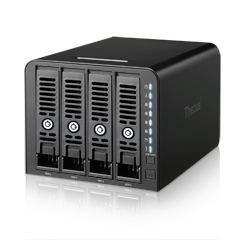 N4350
The Smart Home NAS to Connect and Secure Your Life
Embedded with Intel Marvell Armada Dual Core CPU
1GB of DDR4 RAM
Running on the newly-designed, enhanced ThecusOS™ 7.0
Uninterrupted Accessibility with Thecus System Failover
Mobile Access with Thecus Connect and Orbweb.me
Cloud Service Backup with Amazon Z3
RAID Support (RAID 0, 1, 5, 6, 10 and JBOD)
Plex Media Support
Merkmale
Multiple RAID
When it comes to data management, Thecus NAS truly let you have it your way. Create multiple RAID volumes each supporting different RAID modes including RAID 0, 1 and JBOD for your own balance of performance and data protection. Should a hard drive malfunction occur, changing one is simple thanks to online RAID migration and expansion, hot spare, and auto rebuild.

DDNS
Have easy access to your NAS via Dynamic DNS (DDNS), this allows users to allocate and access their NAS files via the internet remotely. Since IP digits are often difficult to remember, domain names are utilized to make NAS management much more convenient. When the IP address is changed, the DDNS server will automatically adjust the IP address to make sure that remote access is always available. In short, DDNS provides convenient remote internet access to your Thecus® N2310 by utilizing domain names instead of IP digits.

Cloud Backup
The private and public clouds meet with Thecus' new DropBox, Amazon S3 and ElephantDrive cloud backup functionality! Guard your data with RAID at home and an additional level of protection in the Cloud. Just drag and drop files into the folder on your NAS and access them on any computer or mobile device with DropBox, Amazon S3 or ElephantDrive.

Antivirus
Thecus' innovative hardware helps prevent failures. But sometimes you have to protect the NAS against itself. Adding an antivirus to the already comprehensive software bundle will provide the necessary software protection by scanning the files on your NAS and defending it against possible threats. McAfee is the world's largest dedicated security technology company and shares Thecus' spirit of dedication and quality. By establishing a strong partnership with them, Thecus will allow users the benefit of McAfee's powerful software on their NAS entirely for free.

USB 3.0 Connectivity
The next generation of connectivity is here with speeds 10x faster than USB 2.0. Whether connecting digital cameras and smart phones, backing up large external hard drives, or extending the capacity of your NAS, USB 3.0 will make sure it's done in no time at up to 5 Gbit/s. Backwards compatibility adds the connectivity of a world full of USB 2.0 and USB 1.1 devices to get the best combination of speed and universal access.

Multiple File Systems
Support for multiple file systems including , EXT4 and XFS, gives Thecus NAS flexibility to handle many different types of environments. Users can simultaneously use different file systems across multiple RAID volumes to get the best of each one.


iSCSI Thin-Provisioning
Get the most out of your storage space with the extreme speed of iSCSI and the efficiency of iSCSI thin provisioning. Connect through iSCSI for the fastest data transfer speeds available and make wasted disk space a thing of the past with thin provisioning's flexible storage functionality.

User Quota
Divide the massive storage of a Thecus NAS among multiple users. Whether there are two users or 100, User Quota make it easy to divvy up and manage disk space.

Techn. Daten
1. Hardware-Platform
Element
Spezifikation
Prozessor
Marvell Armada 388 Dual Core up to 1.8GHz
Systemspeicher
1GB DDR4 on board
Flash-Speicher
512MB NAND Flash
LAN-Schnittstelle (PCI-e)
RJ-45x2: 100/1000 BASE-TX Auto MDI/MDI-X
WOL-Unterstützung
USB-Schnittstelle
USB 3.0 port x2 (Rear)
LED-Anzeigen
1. Power, System besetzt (blau) solide auf bis SW beteiligt, nach SW beteiligt LED blinzeln, um Power on Prozess anzuzeigen. Zustand wechseln auf solide, während System bereit ist.
2. HDD1-2 Aktivität / Fail (Blink Blue / Orange)
3. LAN (Link: Massiv blau, Aktivität: Blink blau)
4. USB (installiert: solide auf, Kopie LED: Blink blau, Kopie fehlgeschlagen: orange)
5. Systemstatus (i): Für die Systemdiagnose. (Blau: blinken, während Diagnose-Modus Kick-In, solide auf während Diagnose abgeschlossen, wenn Fehler aufgetreten ist, USB führte mit orange führte auf)
Disk-Schnittstelle
4 x SATA für interne, SATA II / SATA III Festplatte
HDD stolperte
wird unterstützt
Stromversorgung
60W externer Netzadapter
System zeitgeber
Batterie-gestützter Systemzeitgeber
Tasten
Netzschalter
USB-Kopiertaste
Reset-Taste (Reset auf Werkseinstellung)
Betriebsumgebung
Temperatur: 5 ° C bis 40 ° C
Feuchtigkeit: 0 ~ 80% R.H. (nicht kondensierend)
Gehäuse
4bays Turm
Abmessungen (HxBxT)
135 x 170 x 217 (mm)/ 5.33 x 6.69 x 8.54(in)
Tonsignal
Unter 20dB
Zertifizierungen
CE/FCC/C-Tick/VCCI/BSMI
RoHS
WEEE
Zuverlässigkeitstest
Leistungsaufnahme Test
Geräusch-dB-Test
Temp 0 ~ 40 ° C Test
2. Software-Funktionen
RAID
RAID-Modi
RAID 0, 1, 5, 6, 10 and JBOD
Autom. Wiederaufbau
wird unterstützt
Hot-swap
wird unterstützt
Hot Spare
wird unterstützt
Online RAID-Erweiterung
wird unterstützt
Disk
Energieverwaltung
Herunterfahren im Leerlauf-Einstellung verfügbar
Bad-Block-Scanning
wird unterstützt
SMART-Info
wird unterstützt
SMART-Test
wird unterstützt
Disk-Roaming
Volume-basiertes Roaming mit weiterem Thecus-NAS unterstützt (Thecus OS7)
Disk Wipe and Clone
wird unterstützt
Secure Disk
wird unterstützt
Netzwerk
Konfiguration
Feste IP-Adresse, dynamische IP-Adresse
Transportprotokolle
TCP/IP/AppleTalk
Dateiprotokolle
SMB/CIFS, HTTP/HTTPS, FTP, NFS v4, AFP
TCP/IP
IPV6 & IPV4
DDNS
wird unterstützt
SSH
wird unterstützt
UPnP
wird unterstützt
UPnP-Portweiterleitung
wird unterstützt
Bonjour
wird unterstützt
VPN Server
wird unterstützt
vLan
wird unterstützt
Systemstatus
Systemüberwachung
Überwachung von CPU, Speicher, Temperatur, Lüfter, Netzwerknutzung, Protokollzugriff und Nutzerzahl
Syslog-Management
Syslog-Versand an vordefinierte Ziele
Einsatz als Syslog-Server zum Abruf von Protokolldaten anderer Systeme
Datenzugriff
Unterstützte Client-Betriebssysteme
Windows XP and after
Windows Server 2003 and after
UNIX/Linux
Mac OS X
FTP
Integrierter FTP-Server mit Bandbreitenkontrolle
Secure FTP
Integrierter Secure FTP-Server mit Bandbreitenkontrolle
TFTP
Benutzer kann Dateien mit TFTP-Programmen herunter- und hochladen.
Download-Manager
BT-Download (über Übertragungsmodul)
WebDAV/WebDAV SSL
wird unterstützt
Drucker-Server (IPP)
Unterstützt USB-Drucker
Unterstützt eine Vielzahl von IPP-Druckern
Druckaufgaben (listen/löschen) können vom Client über eine Weboberfläche verwaltet werden
Datensicherung
Mac OS X Time Machine
wird unterstützt
Lokale Ordner / iSCSI- Backup- Unterstützung
wird unterstützt
Remote-Ordner / iSCSI- Backup
wird unterstützt
System Failover
wird unterstützt
Block Level Access
iSCSI Ziel/Initiator
Unterstützt Microsoft/Mac OS X/Linux-Initiatoren und Thecus NAS-Targets
iSCSI-Thin Provisioning
wird unterstützt
Energieverwaltung
Programmiertes Ein-/Ausschalten
wird unterstützt
Volume-Management
Multiple RAID
wird unterstützt
Mehrfachdateisystem auswählbar
EXT4/XFS
Multimedia-Support
iTunes-Server
Unterstützt AAC, MP3 mit ID3-Tag und WAV
Medienserver
Unterstützt uPnP-AV-Streaming-Protokoll (über Modul)
Benutzerauthentifizierung
Lokaler Benutzer
Unterstützt integrierte Benutzerkonten
Lokale Gruppe
Unterstützt integrierte Benutzergruppen
Windows ADS
wird unterstützt
LDAP
wird unterstützt
Access Guard
Unterstützt Black & White Liste / IP Filter
Benutzerprofil
Unterstützng für Photo-Center
wird unterstützt
Ünterstützung für Datei-Center
wird unterstützt
App-Center
wird unterstützt
Surveillance Center
wird unterstützt
Cloud-Datensicherung
Amazon S3
wird unterstützt
Dateisystem
Typ
Journaling File System
Unterstützte Sprachen
Unicode-Unterstützung
Authentifizierung (ACL)
Schreiben-, Lesen, Verweigern-Rechte für einzelne Benutzer oder Gruppen in Ordnern oder Unterordnern
Benutzerquoten
wird unterstützt
Administration
Benutzerschnittstelle
Webbasierte Benutzerschnittstelle unterstützt Englisch, Traditionelles Chinesisch, Vereinfachtes Chinesisch, Japanisch, Französisch, Deutsch, Italienisch, Spanisch, Russisch
Utility-Programm
MS Windows Setup-Assistent
Windows XP und aktueller
Mac OS X Setup-Assistent
E-Mail-Benachrichtigung
Sendet Systemmitteilungen per E-Mail an den Systemadministrator
SNMP-Trap
Systeminformationen, Trap-Out
Mobile Anwendungen (iOS/Android)
Thecus Connect™ (Android)
Mobile Überwachung und Administration (über Modul)
Orbweb.me
Datei erkunden, Webcamüberwachung über P2P-Verbindung
Sonstiges
Papierkorb
wird unterstützt
ISO-Einbindung
wird unterstützt