Linux NAS | Enterprise - Rack-Montage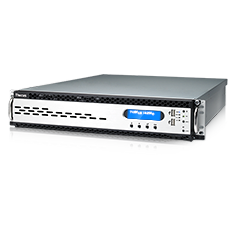 N12910
Faster, More Reliable Enterprise Storage at the Forefront of Technology
Enterprise Size for Enterprise Tasks
HA System Redundancy for Perfect Operational Performance
Real-time Remote Replication and System Disaster Recovery
Bundled with Free Acronis® True Image and Intel® Security
SATA III for Ultra-Fast Transfer Speeds
7 Modes of Link Aggregation for Faster Transfers
RAID 0, 1, 5, 6, 10, 50, 60 and JBOD
Secure Remote Access with VPN Connection
Merkmale
High Availability (HA)
For the first time, your data is completely free of delays in access. Regardless of the situation, HA actively keeps your data on two separate, identical NAS. If one needs maintenance, the other will dutifully rise to the occasion without as much as a blip in service. Whether rain, shine, or Armageddon, your data will always be there.

PLEX Media Center
The Plex Media Server is both the heart and brains for any digital media system. The free server is a module available on the Thecus® App Center that allows you to set up and manage your media. With the Plex Media Server installed on your Thecus® NAS, various devices on your network (such as your Xbox 360 and mobile devices) can connect to and stream your local and online media.

Snapshot Backup
With BTRFS support, Thecus NAS users can enjoy the simplicity of snapshot backups. Through BTRFS subvolumes, snapshots of data at various time points can be manually or automatically made and just as easily later restored to rollback files or folders to previous states.

Disk Clone and Wipe
Disk Clone allows users to copy the entire contents of a disk to one or many other disks while Disk Wipe allows for permanent volume data destruction.

VPN Server
A VPN Server allows users to remotely access a secure network. with VPNs, businesses will be able to utilize a cost-effective, scalable and secured network infrastructure for its client base.

10GbE Ready
High-end data centers often need a level of speed that today's average Internet cannot provide. This Thecus NAS is 10Gb Ethernet ready to satisfy the toughest needs of today and tomorrow.


USB 3.0 Connectivity
The next generation of connectivity is here with speeds 10x faster than USB 2.0. Whether connecting digital cameras and smart phones, backing up large external hard drives, or extending the capacity of your NAS, USB 3.0 will make sure it's done in no time at up to 5 Gbit/s. Backwards compatibility adds the connectivity of a world full of USB 2.0 and USB 1.1 devices to get the best combination of speed and universal access.

Acronis True Image
Thecus brings the best to the table with Acronis's advanced backup software. Back up all your data with One-click Protection or pick and choose only your most important files. Acronis sports a slick interface, user-friendly design, and comprehensive features to keep your data safe.

Antivirus
Thecus' innovative hardware helps prevent failures. But sometimes you have to protect the NAS against itself. Adding an antivirus to the already comprehensive software bundle will provide the necessary software protection by scanning the files on your NAS and defending it against possible threats. McAfee is the world's largest dedicated security technology company and shares Thecus' spirit of dedication and quality. By establishing a strong partnership with them, Thecus will allow users the benefit of McAfee's powerful software on their NAS entirely for free.

Multiple RAID
When it comes to data management, Thecus NAS truly let you have it your way. Create multiple RAID volumes each supporting different RAID modes including RAID 0, 1, 5, 6, 10,50, 60 and JBOD for your own balance of performance and data protection. Should a hard drive malfunction occur, changing one is simple thanks to online RAID migration and expansion, hot spare, and auto rebuild.

Multiple File Systems
Support for multiple file systems including Ext3, EXT4, Btrfs and XFS, gives Thecus NAS flexibility to handle many different types of environments. Users can simultaneously use different file systems across multiple RAID volumes to get the best of each one.


iSCSI Thin-Provisioning
Get the most out of your storage space with the extreme speed of iSCSI and the efficiency of iSCSI thin provisioning. Connect through iSCSI for the fastest data transfer speeds available and make wasted disk space a thing of the past with thin provisioning's flexible storage functionality.

iOS/Android Connectivity
In the modern world, nothing is as important as reaching your data from anywhere. With T-OnTheGo and the T-Dashboard, you can manage your NAS, and upload to and download/stream from your NAS using an iOS or Android device on the go.

Rsync
Backing up your data is very necessary, and everyone has specific needs when it comes to storage. Thecus's Rsync functionality gives users great flexibility with remote backup capability, a flexible scheduler, and the stability of Linux-based transfer.

User Quota
Divide the massive storage of a Thecus NAS among multiple users. Whether there are two users or 100, user quotas make it easy to divvy up and manage disk space.


PCI-e slot
Thecus NAS products are ready for a number of emerging technologies. Through the built in PCI-e slot, business users can add a 10G Ethernet Adaptor for lighting fast transfer speeds, or a USB 3.0 Adaptor Card to enjoy next-generation connectivity.
Übersicht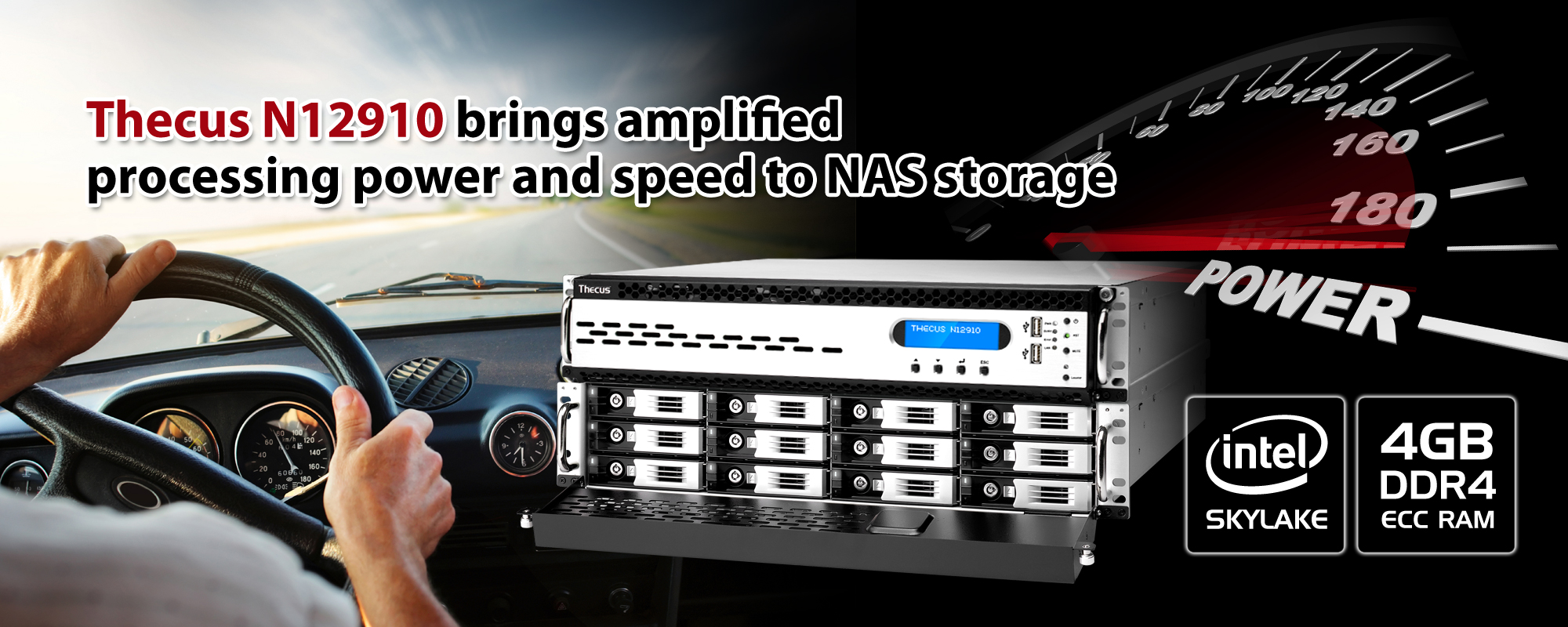 29/09/2016 - Thecus Technology Corp kündigte heute die Einführung des neuen business-level NAS N12910 an. Dieses 12-Schacht Rackmount ist das erste mit dem neuen Skylake Intel Prozessor und RAM-Architektur der nächsten Generation in der Thecus Produktpalette. Mit verbesserter Prozessorleistung und der bewährten Funktionalität und Verlässlichkeit, für die Thecus business-NAS stehen, stellt dieses Rackmount eine fantastische und starke Lösung dar, um selbst die anspruchsvollsten Geschäftsanforderungen umzusetzen.  

"Thecus ist mal wieder an der vordersten Technologiefront dabei. Die Einführung von Hardware der nächsten Generation erlaubt es, die gesicherten Daten schneller und mit größerer Stabilität und Zuverlässigkeit abzurufen. Das N12910 bietet Anwendern eine überragende Lösung bei der Auswahl von Speicherlösungen für die Zukunft Ihres Unternehmens." Sagt Florence Shih, Geschäftsführerin der Thecus Technology Corp.

Das N12910 verfügt über einen Intel® Skylake Core i3-6100 3.70 GHz Zweikernprozessor der neuesten Generation. Diese Intel Prozessor wird im verbesserten 14nm Verfahren (im Vergleich zu 20nm beim Haswell Kern der 4ten Generation) gefertigt. Dieser Technologieschritt verbessert die Performance der einzelnen Kerne und reduziert dabei immer noch die Leistungsaufnahme.

Auf dem N12910 läuft das jüngste ThecusOS 7.0, welches eine optimierte und multifunktionale Plattform bereitstellt, die durch ein intuitives Nutzerinterface und einfache Bedienung besticht. Neue Kernfeatures sind unter anderem die Fotostation, das Thecus App Center und das Thecus Datencenter. Gegenüber seinem Vorgänger bringt das neue ThecusOS 7.0 signifikante Verbesserungen, die sich auf die Effizienz der Bedienung, die Produktivität und die Leistung niederschlagen.

Die NAS der neuen Serie sind mit 4GB (aufrüstbar bis zu 64GB) DDR4 ECC RAM ausgestattet. Verglichen mit der Vorgängergeneration DDR3 bringt die neue Speicherarchitektur mehr Leistung, Robustheit und Kontrollfeatures mit sich, während gleichzeitig der Energiebedarf gesenkt wird.

Das von Thecus® wurde entworfen, um den Anforderungen großer Firmen zu genügen, die über sehr große Datenmengen verfügen und unerschütterliche Leitung und Stabilität von ihren NAS erwarten. Mit seinem neuen Prozessor und der nächsten Generation DDR4 RAM, bietet das Thecus N12910 schnellere Zugriffszeiten und verbesserte Multitasking-Fähigkeiten. Es ist robust, stabil, schnell und erweiterbar und steht damit ganz im Sinne des  Thecus ethos 'empowering professionals'.

Verfügbarkeit: Geräte sind ab Ende Oktober erhältlich.
Techn. Daten
1 Hardware-Platform
Element
Spezifikation
Prozessor
Intel®Skylake Core-i3 6100 3.7GHz Dual Core Processor
Prozessor kompatibel mit
Intel Haswell Celeron /Pentium /Core i3_i5_i7 / XEON
**Anmerkung: Nur für OEM oder besondere Projekte. Bitte kontaktieren Sie das Thecus-Sales-Team für weitere
Systemspeicher
4GB DDR4 ECC RAM
Arbeitsspeicher erweiterbar auf bis zu
64GB Memory Compatibility List
LAN-Schnittstelle (PCI-e)
RJ-45x2 :Auto MDI/MDI-X
WOL-Unterstützung
USB-Schnittstelle
USB 2.0-Host-Port x2 (vorne x2)
USB 3.0-Host-Port x4 (hinten x4)
VGA/DVI/HDMI output
wird unterstützt
Audio(5+1), SPDIF
wird unterstützt
K/B und Maus (PS2)
wird unterstützt
LCM
Anzeige von Systemstatus und -informationen
LAN-Schnittstelle (PCI-e)
Power: (blau)
System beschäftigt: (gelb)
Systemalarm: Fehler der redundanten Stromversorgung oder des Kühlers (rot)
HDD 1-12 Aktivität/Fehler (Weiß/rot)
PCI-e Slots
PCI-e x16 (x1) or PCI-e x8 (x2)
PCI-e x1 (x1)
Stromversorgung
Redundante Stromsversorgung 500W oder mehr (80plus)
Disk-Schnittstelle
SATA/SAS (x12) via backplane
Betriebsumgebung
Temperatur: 0°C bis 40°C im Betrieb
-40°C bis 70°C nicht im Betrieb
Luftfeuchtigkeit: 0 ~ 80 % R.H. (Nicht kondensierend)
Gehäuse
2U-Rackmount
Abmessungen (HxBxT)
89 x 440 x 662 (mm)
2. Software Functions
RAID
RAID-Modi
RAID 0, 1, 5, 6, 10, 50, 60 und JBOD
Autom. Wiederaufbau
wird unterstützt
Hot-swap
wird unterstützt
Hot Spare
wird unterstützt
RAID-Stufenmigration
wird unterstützt
RAID-Stufenexpansion
wird unterstützt
RAID-Volume-Verschlüsselung
AES256bit
Disk
Energieverwaltung
Herunterfahren im Leerlauf-Einstellung verfügbar
Bad-Block-Scanning
wird unterstützt
SMART-Info
wird unterstützt
SMART-Test
wird unterstützt
Disk Roaming
Volume-basiertes Roaming mit weiterem Thecus-NAS unterstützt (benötigt ThecusOS7 64bit)
Disk Wipe and Clone
wird unterstützt
Disk Security
wird unterstützt
Netzwerk
Konfiguration
Feste IP-Adresse, dynamische IP-Adresse
Transportprotokolle
TCP/IP/AppleTalk
Dateiprotokolle
SMB/CIFS, HTTP/HTTPS, FTP, NFS v4, AFP
Link Aggregation
Load balance, Failover, 802.3ad, Balance-XOR, Balance-TLB, Balance-ALB, Broadcast
vLan
wird unterstützt
TCP/IP
IPV4/IPV6
DDNS
wird unterstützt
SSH
wird unterstützt
UPnP
wird unterstützt
UPnP-Portweiterleitung
wird unterstützt
Bonjour
wird unterstützt
VPN-Server
wird unterstützt
Systemstatus
Systemüberwachung
Überwachung von CPU, Speicher, Temperatur, Lüfter, Netzwerknutzung, Protokollzugriff und Nutzerzahl
Syslog-Management
1.Syslog-Versand an vordefinierte Ziele
2.Einsatz als Syslog-Server zum Abruf von Protokolldaten anderer Systeme
Datenzugriff
Unterstützte Client-Betriebssysteme
Windows XP and after
Windows Server 2003 and after
UNIX/Linux
Mac OS X
FTP
Integrierter FTP-Server mit Bandbreitenkontrolle
Secure FTP
Support explicit TLS
TFTP
Benutzer kann Dateien mit TFTP-Programmen herunter- und hochladen.
Download-Manager

BT-Download (über Übertragungsmodul)
NZB-Download (über NZB-Modul)

WebDAV/WebDAV SSL
wird unterstützt
Drucker-Server (IPP)
1.Unterstützt USB-Drucker
2.Unterstützt eine Vielzahl von IPP-Druckern
3.Druckaufgaben (listen/löschen) können vom Client über eine Weboberfläche verwaltet werden
Datensicherung
Schrittweise Sicherung der Client-Daten
Acronis Server-Sicherung (OEM-Version)
Client System Disaster Recovery
Acronis Server-Sicherung (OEM-Version)
Local folder/iSCSI Backup
wird unterstützt
Remote folder/iSCSI Backup
wird unterstützt
Hochverfügbarkeit (High Availability)
wird unterstützt
Mac Time Machine
wird unterstützt
Snapshot
wird unterstützt (Btrfs)
System-Failover
wird unterstützt
Block Level Access
iSCSI Ziel/Initiator
Unterstützt Microsoft/Mac OS X/Linux initiators und Thecus NAS targets
iSCSI-Thin Provisioning
wird unterstützt
MPIO
wird unterstützt
MCS
wird unterstützt
Clustering
wird unterstützt
SCSI3 Persistent Group Reservation
wird unterstützt
Energieverwaltung
Programmiertes Ein-/Ausschalten
wird unterstützt
Volume-management
Multiple RAID
wird unterstützt
Mehrfachdateisystem auswählbar
EXT4/XFS/Btrfs
Multimedia-Support
iTunes-Server
Unterstützte Dateitypen: AAC, MP3 mit ID3-Tag, WAV
Medienserver
Unterstützt uPnP-AV-Streaming-Protokoll (über Modul)
Benutzerauthentifizierung
Lokaler Benutzer
Unterstützt integrierte Benutzerkonten
Lokale Gruppe
Unterstützt integrierte Benutzergruppen
Windows ADS
wird unterstützt
LDAP
wird unterstützt
Access Guard
Unterstützt Schwarz- und Weißliste/IP-Filter
User Profile
Photo Center
wird unterstützt
File Center
wird unterstützt
APP Center
wird unterstützt
Cloud-Datensicherung
DropBox
wird unterstützt (über Modul)
Elephant Driver
wird unterstützt (über Modul)
Amazon S3
wird unterstützt
Dateisystem
Typ
Journaling File System
Unterstützte Sprachen
Unicode-Unterstützung
Authentifizierung (ACL)
Zuweisung von "Lese"- und "Schreibrechten" sowie das "Verweigern" dieser für individuelle Benutzern und/oder Gruppen für Ordner und Unterordner
Benutzerquoten
wird unterstützt(exclude btrfs)
Folder Quota
wird unterstützt (Btrfs)
Administration
Benutzerschnittstelle
Webbasierte Benutzerschnittstelle unterstützt Englisch, Traditionelles Chinesisch, Vereinfachtes Chinesisch, Japanisch, Koreanisch, Französisch, Deutsch, Italienisch, Spanisch, Russisch, Polnisch und Portugiesisch
Utility-Programm
MS Windows Setup-Assistant
unterstützt Windows XP and after
Mac OS X Setup-Assistant
E-Mail-Benachrichtigung
Systemmeldungen werden per E-Mail an den Systemadministrator versendet
P2P-Unterstützung
eMail-Registrierung zur Fernverbindung mit NAS
SNMP-Trap
Systeminformationen Trap Out
Mobile Anwendungen (iOS/Android)
Thecus Connect™ (Android)
Bietet aktuelle up-to-date Informationen Ihrer NAS
Thecus Wizard™
Bietet schnelles NAS Setup über Ihr Telefon an
T-OnTheGo™
Hochladen, Herunterladen und Streamen von Multimedia
Orbweb.me
Uploads, Downloads, Streaming Multimedia und Webcam-Feeds über P2P-Verbindung
Datensicherheit
Virenscan
Intel Security-Unterstützung (über Modul)
Kapazitätserweiterung
Stapelbar
Erweiterung um 5 zusätzliche iSCSI-Volumes von weiteren Thecus-NAS
Sonstiges
Papierkorb
wird unterstützt
Web Server (Modul)
wird unterstützt (über Modul)
ISO-Einbindung
wird unterstützt
IP-Kamera-Überwachung (Modul)
Unterstützt Motion Eye (über Modul)
UPS
wird unterstützt(über USB)
Lokales Anzeigegerät
X-Window via HDMI-Ausgang
Inhalt des Lieferkartons
Accessory Bag
Ethernet Cable
Power Cord
Universal CD
QIG
Warranty Card
HDD Compatibility List Card